Dear Friends,
Thank you for all your help in the last 4 weeks. That is when I returned to Lawaki from a planned stay at Pac Harbour for March and April.
You cared and stayed in touch, advised us reliably regarding the weather, Tourism Fiji, Marketing and Govt news.
First: We are fine and hope the same from you!
As usual with a TC: Christine quarrels with God and the heavy winds. Sam is up and on the radio 24/7. The worry that all roofs are strong enough and same time already planning what has to be done when next TC hits, keeps him awake. This was our worst experience we have had so far. We both were not here at Winston in 2016, but Wais who was guarding Lawkaki said, this was very similar.
We have prepared on Monday 06.04. by taking everything inside the Bures as usual. The boats were anchored in the villages. We worried because of the predicted long-lasting westerly wind.
Tuesday, Sam and I were home alone, listening to the quiet before the storm. Christine still mad at the whole situation! Not scared, but ANGRY!
Wednesday and Thursday just waiting and watching. The noise from the waves and their height was horrible. Pete's saying a few years ago: your verandah will be under water in 20 years, did not make me laugh anymore. I know he is right. It does not need a TC, all storms are dragging more sand away than they bring in.
Still a strange feeling: one day I have to jump from the green grass down to the beach approx. 1 mt. Two days later the grass is covered with sand and the step is one foot high only. The 4 steps that we built, sometimes seen 2 of them for a long time, sometimes 4 of them for a long time. On Thursday: the 2 top once only to be seen, with a remarkable big whole on the top. We could see how many bottles we had buried there years ago!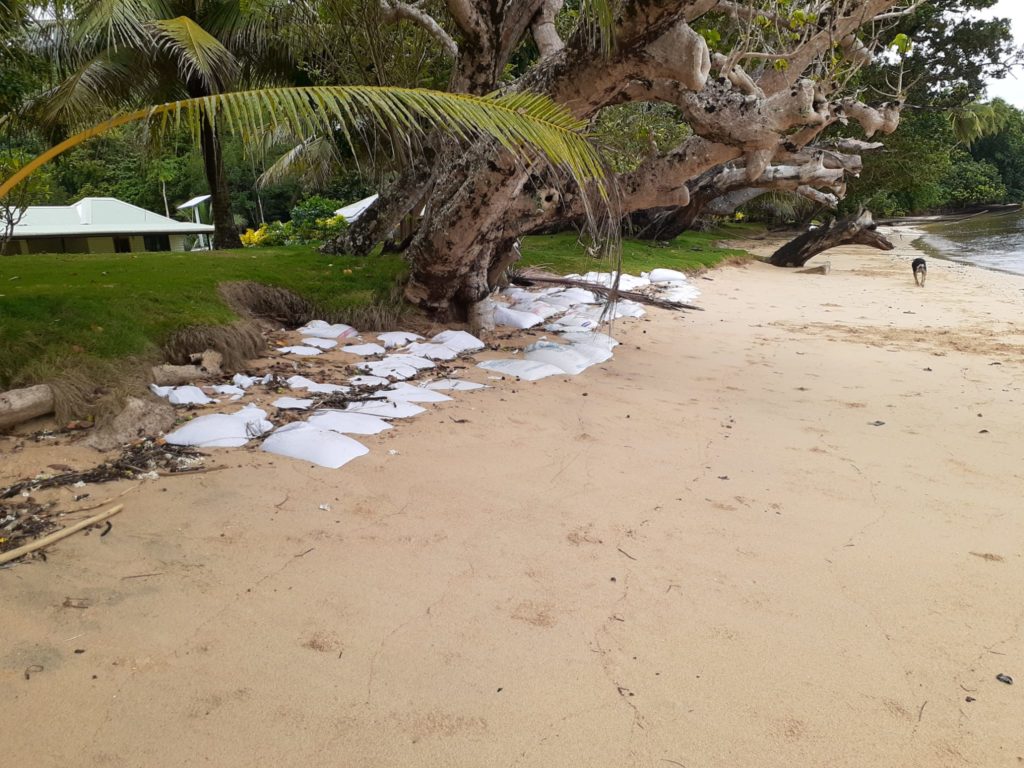 Some of the planks from the decking were gone, but not too far. 2 buoys are gone with the ropes. Both found again and saved. The main buoy of the Lawaki Delight quite a bit moved to the south. Parts of our seawall that we did built 15 years ago that had been covered by sand for years now, came exposed and sand taken out of it.
The heap of rocks for our flag pole has been scattered. It is built up again and the area cleaned from rocks. They are used to fill holes on tree roots.
A few days before Beqa Lock down, we bought 4 pine posts to cement them behind the trees. We feel sorry for the trees that have protected us and kept our boat safe for many years. After TC, we just have to do it, no question. The roots of the trees exposed make us tearing.
The two creeks have opened several times and it always looks different and changes the whole environment and beach.
First time snorkeling on Sunday 12.04. : I can not see any color!!!!! The water is green, everything is yellow underneath, like a desert. Covered with a yellow dust carpet. 2 and 3 days later: the same. None of the blue finger corrals that were there is to be found. All the brown ones upside down and the fingers all in small bits and pieces everywhere.
Sam thinks I can not see the colors because of the green water. But I don't believe that.
He went fishing every weekend with Wais since we are closed. Except for the last one. Just for the Fijian Sunday lunch. Still we experience a surge on and off that is not the Beach I prefer.
I have seen a Bula, a small Yaga, only a few cucumbers, a new cucumber that I have never or hardly seen, a lobster, a decent size Grouper. Well, maybe I may see it too negative. I look forward when HS comes to says: this is still here and that was good for this and no need to worry….. Well, here I really do not worry since I don't have to feel guilty: nothing that I could have done.
The farm is sad to see. Looks like a fire went through. We lost eggplant and cucumber, Dalo, Cassava, Banana and Kava. Not so big of a variety as after Xmas, where we had a bean, tomato, cucumber, watermelon and egg plant. We just eat the very last watermelon from that batch it was marked with nr 43!
As usual, the banana and papaw trees have gone first. Well, the banana could not recover since Xmas anyway. But it's the last time Sam plants them in a balanced combination in the garden, since they always damage a lot when they fall. We cooked green papaw in lolo on Tuesday when we had 14 people working on cleanup. Amazing what a group can do in 3 half days. It looks quite good already. Working half a day is a good thing as well! People are fit and one still has some free time in the afternoon! Positive of being closed: enjoy extended afternoon naps!
Kava that has been damaged has been taken out. The assessment on the Kassava patches which is important for our Loloma.ch job was not as bad as on the other side of Lawaki. He still has 2 fields that are not completely damaged. Well, we do not have to deliver anyway now.
Once more we are grateful that we have no major damage on buildings and boats.
We have used a lot of super fuel for the generator over the TC week. I have missed the sunshine and proper light even days before the TC. Since TC passed, we have quite good sunshine and even the half dead solar batteries recovered a bit.
We haven't been on the mainland since 4 weeks. Naceva's shopping days are Tuesday and Saturday and we ordered some fuel last week. We are planning to go over next Tuesday. We don't need much, still have a good stock. We have taken over the Loloma stuff that I shopped for 2 weeks, not knowing about the situation by then. And at that time I lived in Pac harbour and wanted to make use of the 2 Freezers there and save on trips to Suva. But plans have changed…………Lawaki freezer has all guest food in it…… and we have to eat it! Not very economically and not planned at all.
Therefor we did not miss anything so far. And today we have received an emergency parcel from Govt by a budge (can not find the word, but you know what I mean: the big flat boat???)
Still we will need fuel and cash next week.
We wrote to our staff that they are on "leave without pay" until further notice. We try to hire them once we need to. Of course there are jobs, but no income. On the 3 half days after TC the girls have washed down all Bures except the dorm. All was salty and sticky. Sam and the boys started to clean the farm. Sam will want to work on the seawall next week…… menpower, bags and sand……
They all filled the application for FNPF unemployment/lowered income assistance and uploaded it on 01.04.2020. I pay them the normal rate when they work with the 10%FNPF only. But I could not pay our 14 staff 3 days public holidays yet. I keep it in mind, who knows there might be a chance to back pay.
Some villagers never plant. They may have started now due to corona. The once who planted, like Sam's brother, who obviously grew up with the philosophy: how can a MAN sleep well, if he doesn't know where the cassavas come from for tomorrows meal, are starting to worry too. They got ready for the Corona. 4 adults in the family. Father pensioned, 3 working in tourism. 3 lost jobs, but still having the farm that they can concentrate on together now. TC Harold made the tough situation even tougher.
Soon many families will not have any food anymore. The sea is the only place to get something. Day and night people are in the forest and in the sea. Good, nobody has to be fit the other morning for work. Well, we still have the curfew from 20.00-05.00. I am wondering how successful the fishing ban will be working this year?
Some Beqan Villages obviously had bad damages, we can see it online. The seawall in Naiseuseu, approx. 3 years old, was not doing its job: the waves went into the village. 2 houses in the front had the water just off the doorsteps. On the way out, the wave took all the sand from behind the seawall. There are big wholes now. 2 houses are gone completely. I know, even if they were not the safest built houses: they were safety, home and shelter. And even Fijians are not known to be very materialistic minded people: everyone has a family house that is homeland. I feel sorry for them and can not imagine how I would cope to clean up and search for my bits and pieces. And the uncertainty on when to be able to work again and start rebuilding.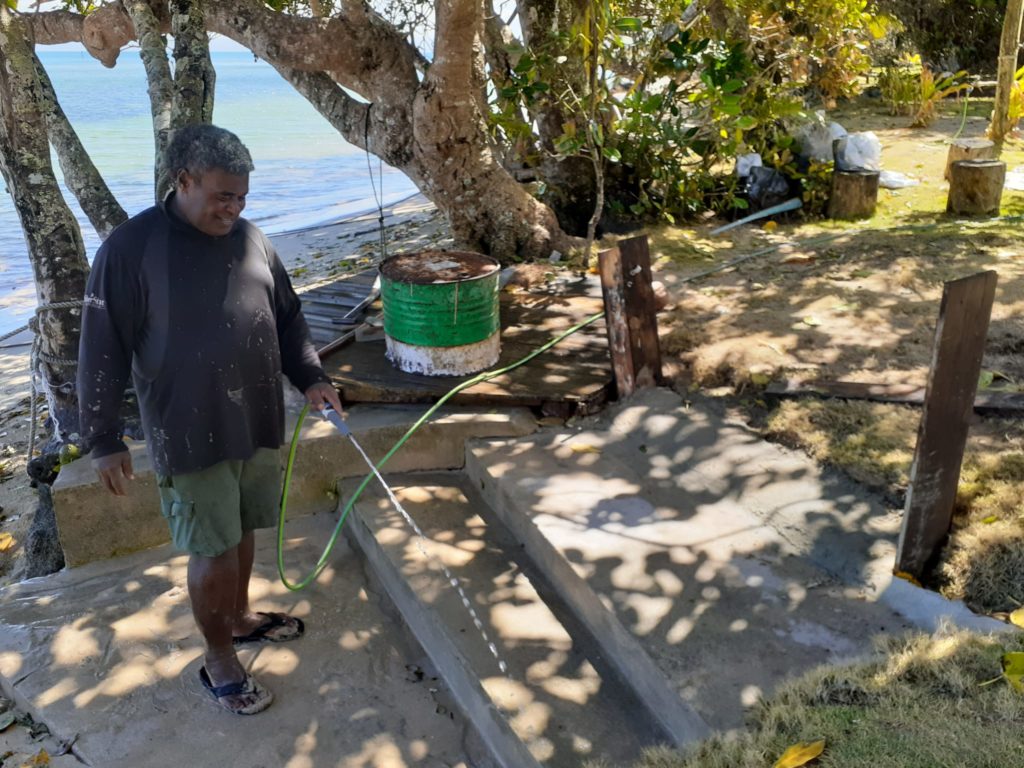 I would not want to miss on internet and I have to say, that through all these times, including TC, we had quite good service. Well, a bit on and off, but not for days. Thanks to Vodafone. (after the drama earlier this year)
We hope you are all well? No damages? Not sick?
We are the lucky ones: we can walk on the beach, swim and do not have to worry much to get into a group of people, haha. We have work and food and the freedom to quite chose when and what to do. Not much time to work in office and clean up as I was planning to do in Pac harbour or prepare for the future guests. Just normal day to day job: cleaning, washing, cooking, dishes, reading a book, watching a movie……
We wish you all the best, good health, more than one positive thought per day and may your waiting time not be boring!
Loloma from Christine & Sam